One of our most important events in the flying calendar is our annual tribute flypast following the Memorial Day service at Madingley American Military Cemetery, Cambridge. This takes place over the May Bank Holiday weekend and has been a key event for Sally B for 40 years now, along with flypasts over former Eighth Air Force bases which we carry out whenever possible during the summer months.
This is what Sally B is really all about, paying tribute to all those young airmen who gave their lives during the Second World War.
The aircraft's mission was eloquently portrayed by team member Richard Bird, who wrote down his reflections after flying in Sally B for the very first time: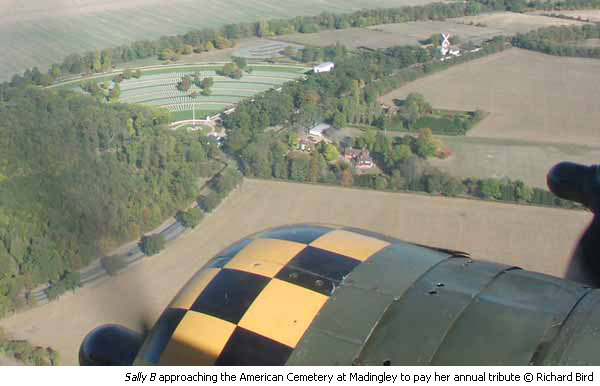 "Flying over Madingley and the Eighth Air Force bases was an extremely humbling experience for me. Looking back now on that warm, sunny day, I realise why it is so important to keep Sally B flying.
You can only understand so much from reading about the history of these aircraft and the men who flew in them. When you experience actually flying in a B-17, it takes on a whole new meaning.
Sitting in the nose, or standing at the waist, and scanning the sunny countryside below was amazing, and all those bases scattered across East Anglia, just a stone's throw from each other, made me realise for the first time the enormity of what Sally B represents.
As the aircraft swept over East Anglia on this glorious afternoon, I thought about what happened all those years ago and the young guys who made up the crews of B-17s and went into battle, not knowing if they would ever return. Just like me they were flying in these great Flying Fortresses, but doing so while frozen at 35,000 feet, trying to avoid the fields of flak, and looking out for enemy fighters. It was quite a different matter altogether.
I don't know how those guys did it."